Nightingale Supported Shelters: An Overview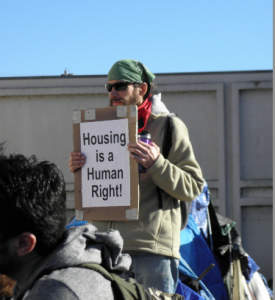 Many people experiencing homelessness have no safe, legal place to sleep and are driven to hide under bridges and along the river banks in unsafe and unsanitary conditions in order to rest. Nightingale Hosted Shelters is a part of Eugene's Rest Stop Program, and is a response to this situation. We provide a secure place for people to sleep without worrying about being cited by the police or told to "Move along."  
NHS  includes both a Site Council consisting of two camp managers and the residents of the camp, and a Steering Committee consisting of  seven board members and the camp managers. The Site Council addresses challenges that arise at camp on a daily basis. The Steering Committee raises funds, takes care of legal and administrative matters, and is available for problem solving, support, and mediation.
NHS provides Conestoga huts or tents, port-a-potties, and garbage and recycling at our camp. Our goal is to offer people a transitional place to be and recover from the trauma of the street as they work their way to more traditional housing.

Our management philosophy is self-governance with oversight and a focus on skill building. Self-governance provides residents with autonomy, responsibility, and dignity. Oversight is provided by our two onsite managers and a Steering Committee with experience and relevant skills in social services, advocating for vulnerable populations, counseling, and mediation.

NHS has been running rest stops (single and double) since 2014. NHS is unique among Eugene's other rest stops in having had to move camp every six months, which has given us a lot of experience in breaking camp and setting up a new camp quickly and efficiently. We are currently at 3500 Hilyard St. in the parking lot of Good Samaritan.

We have been fortunate in having two camp managers, Nathan Showers and Tracy Joscelyn, who have both worked in the food industry, Nathan as a chef at a Best Western kitchen and Tracy in Food for Lane County's Dining room. Nathan also holds a culinary arts degree. Both he and Tracy are knowledgeable about food storage and preparation, treatment and handling of water, heating, waste management and illness prevention.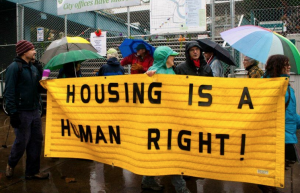 Nightingale Hosted Shelters 2021-2022
Board of Directors
Edie Anderson
Susie Andrist
Edward "Sandy" Cutler, Secretary
Megan O'Connor, President
Norma Grier, Vice-President
Luke Habberstad
Mike Lainoff
Dr. Steve Marks
MaryKay White, Treasurer
Camp Managers
Nathan Showers
Tracy Jocelyn
 Honorary Board Members
Michael Carrigan
Sabra M. Marcroft 
Wayne Martin
Joe B. Richards
In Memoriam
Victoria M. Nelson (1944-2021)
Vickie was a founding NHS Board member and tireless advocate for NHS and unhoused people in Eugene.