Having a place to call home in a community of friends is critical to a happy life.
At Nightingale Hosted Shelters, we provide a home, community and support to our residents, helping them transition through difficult times with love, respect and guidance. Nightingale is a true respite shelter and rest stop, funded primarily by grants and donations from community members like you who are motivated to help the most vulnerable among us meet their basic needs.
Residents apply to join the Nightingale community. They are interviewed, trained and supervised by our on-site resident managers, who are Peer Support Specialists, knowledgeable and understanding of the needs and circumstances of people transitioning from the streets to a sheltered community. With a maximum of 20 residents, the community size is easily manageable. Camp rules are strictly enforced. Residents are required to attend camp meetings, participate in cleanup and take turns at gate duty.
Latest News
Wayne is the 28th recipient of the Blackberry Award and it was given out this afternoon with a crowd of about 50 friends and fellow advocates

[…]

Pat Parsons, a very close friend of MaryKay White, passed away on November 22. Her family donated $15,000 to Nightingale Hosted Shelters in her memory. The

[…]

It's a damp 45 degrees and dark out at 5:30 on a mid-December evening. Other than lights from the warming hut the camp seems gloomy in

[…]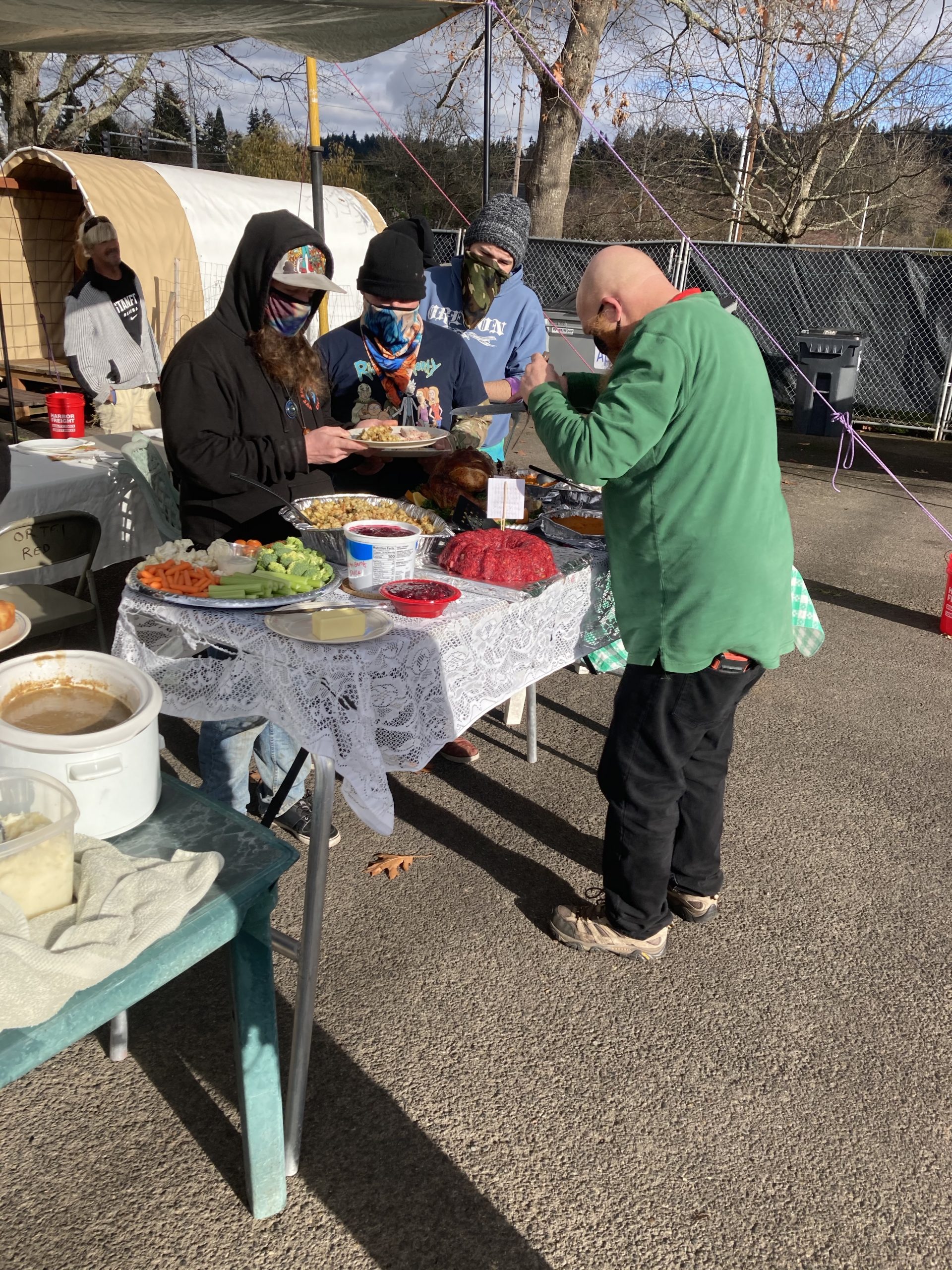 "The folks at Nightingale are excellent neighbors."
Our Mission
The mission of Nightingale Hosted Shelters is to provide temporary shelter and a healthy supportive community for people who are unhoused. NHS is a 501(c)(3) organization. Our EIN is 82-2971990. You may take a tax deduction for your contribution to the full extent allowed by law.
Find us
For more Information Camp (call first) 34th & Hilyard Alley Eugene, OR 97405 541-630-6303 (Camp Manager) NEW MAILING ADDRESS:PO Box 50073, Eugene OR. 97405 541-632-4278 (Board)
Apply
You can print an application from the link below, or if you don't have access to a printer, you can go to CALC, 458 Blair Blvd, and pick up an application. You can also go to the NHS camp at 3500 Hilyard St for an application but call the Camp Manager first at 541-630-6303 to make sure someone is there. If you need help filling the application out, contact NHS and we will find someone to help you.
Click_here_for_NHS APPLICATION
How we get funding
We operate primarily on donor dollars. These come from community members, just like you, who are interested in helping the most vulnerable among us to meet their basic needs. We have been fortunate to meet our capital needs: purchasing the Conestoga huts, warming and storage shelters, with grant and/or restricted funds. Additionally, we have secured special funding to assist us with the additional costs attributed to the Covid-19 pandemic, but the monthly cost of operations is funded by donors.
Rest Stop Program
A rest stop is a designated area within city limits that has been approved by the Eugene City Council where up to 20 people are allowed to sleep in tents or Conestoga Huts. Unless for security or health reasons, residents vacate the site during the day and a limited number of visitors are permitted during designated hours. There are currently four rest stops in Eugene that provide a temporary, safe, legal option for people experiencing homelessness. The City enters into an agreement with a nonprofit organization to manage the rest stops and the program must be periodically renewed by the City Council.