Nightingale Hosted Shelters History
2011-2013
Many of the people who have supported NHS over the past five years, met each other and began working together through the activities of Occupy, SLEEPS, and Whoville.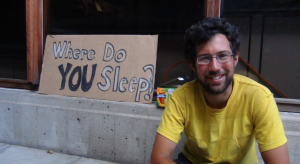 2013
The Eugene City Council passed Ordinance 20517, which permitted overnight sleeping as part of the Rest Stop Pilot Program on September 25, 2013.
2014
In December 2014, NHS began moving into our first rest stop at Lane County Behavioral Health East. We eventually ran two 15-resident tent camps on this property, which was leased to the City by Lane County. We found the site a good fit for us, but because the space was and is used for parking during football season, we had to move by fall, which we all found stressful.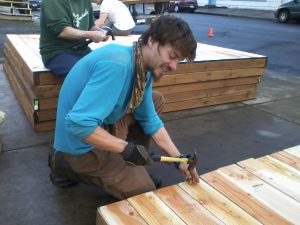 2015
Our second site was at River Road and the Expressway where we ran a camp with 20 residents. Like our first camp, we used tents on wood platforms, covered with plastic. Unfortunately, we had to pay rent here because the land was purchased with Road Tax Funds. We stayed from August 2015 through December 2015, when we returned to the Lane County Behavioral Health property, on the west side. Here we ran two camps with 20 residents each from December 2015 through August 2016, when football season arrived.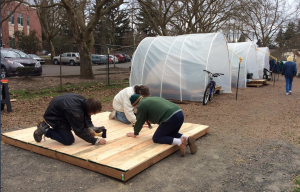 2016
In August of 2016, the Eugene Mission welcomed 15 NHS residents to their comfortable and shady property, where everyone enjoyed the luxury of having both electricity and water. However, because some Whiteaker neighbors felt over burdened by having so many of the organizations involved in support for unhoused people in their neighborhood, the city asked us to find another site in April 2017.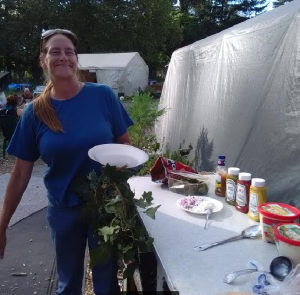 2017
City Council removed the sunset date for the Overnight Sleeping Program and offered us a site in the city-owned parking lot at Good Samaritan in April 2017.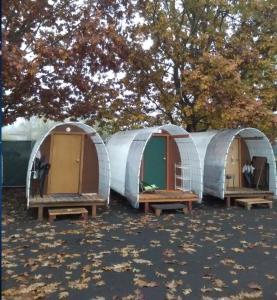 We started our camp with six residents in Conestoga huts in what the City defined as a car camp. We held an open house to meet the neighbors and attended a SE Neighborhood meeting to explain our rules and procedures. Both the neighborhood and Good Samaritan welcomed us.
On October 23, 2017, the City approved our site as a Rest Stop, which allows NHS to house 12 residents. After four months with 12 residents we can apply to house up to 20 people.
As NHS enters its fourth year we are proud to announce that 119 of our residents have found housing since we began running a camp.